Back to 2023 Summer Institute Learning Partners
Professional Bio
Since 2018, Becky Buchen has served as the Senior Vice President of Innovation Operations for OSF HealthCare, which was recognized by Fortune as one of America's Most Innovative Companies for 2023.

OSF HealthCare has been making headlines due to its groundbreaking advancements in recent months, including:

- Launching a digital hospital that allows patients to receive hospital-level care from the comfort of their own homes
- Expanding remote patient monitoring for patients with chronic conditions which also allowed the Ministry to quickly
implement a solution to address a surge in childhood RSV cases
- Developing a Program of All-Inclusive Care for the Elderly for vulnerable older individuals
- Using 3D printing and virtual reality in life-saving surgeries
- Collaborating with the Illinois Department of Health and Family Services and several Federally Qualified Health Centers to form the Medicaid Innovation Collaborative, which addresses social factors that impact health

Becky oversees the Office of Innovation Management and Performance Improvement, which includes oversight of Intellectual Property Policy management, the Performance Improvement portfolio across the Ministry and the innovation process that supports idea generation, solution discovery and pilot testing. She is also responsible for the development of the operational infrastructure needed to support innovation and assures innovation results are measured and achieved.

Becky works collaboratively with executive leadership to drive the OSF Innovation agenda, including engaging Mission Partners in the process, educating them on innovation and creating an innovation competency at OSF HealthCare.
Organization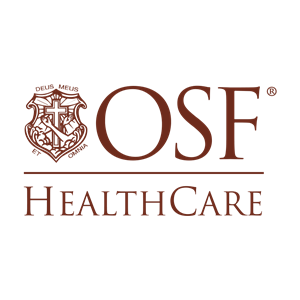 OSF HealthCare
Peoria IL
https://www.osfhealthcare.org
Learning Partner
---